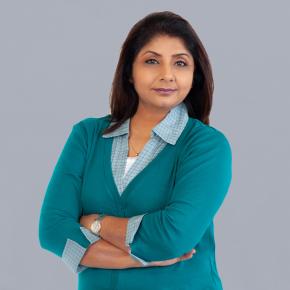 Trident Systems, CEO, Indianapolis Recorder, Tech Editor
Rupal Thanawala is a Business and Digital Strategy Executive with over 25 years of experience. She has deep expertise in leading large-scale global business transformation, M&A and divestiture, cybersecurity, digital innovation and operational excellence projects.  She has experience in driving business outcomes from developing a vision to implementing transformation projects globally in diverse industries. She has managed multiple internal and external stakeholders to solve complex challenges in a timely and cost-effective manner for corporations and communities. Rupal's primary responsibilities included managing sales and marketing portfolios, developing people programs, and enhancing customer experience by successfully establishing formal programs for new initiatives, corporate citizenship, diversity and inclusion, mentoring and recruitment, and social responsibility.
 
Rupal is passionate about uplifting her community and serves on the board to champion causes related to diversity, inclusion & equality, education & STEM, technology, and healthcare. She is President of Asian American Alliance Inc. and Board Member of IU Luddy School of Informatics and Computer Engineering, Black Data Processor Association, Techpoint Foundation for Youth and TheSnapLink, Tech Editor of Indianapolis Recorder Newspaper. She is a celebrated podcaster, public speaker and columnist.
 
Rupal is recognized as Torchbearer Women by Indiana Commission for Women, Trailblazer by NAWBO, 100 Hero by United Way of Central Indiana, Rosa Parks Champion of Diversity Award by Recorder Media Group and Beacon award by BearingPoint. Rupal has earned an MBA from Northwestern University Kellogg School of Management and BS (Bio-Medical) Engineering from the University of Mumbai.